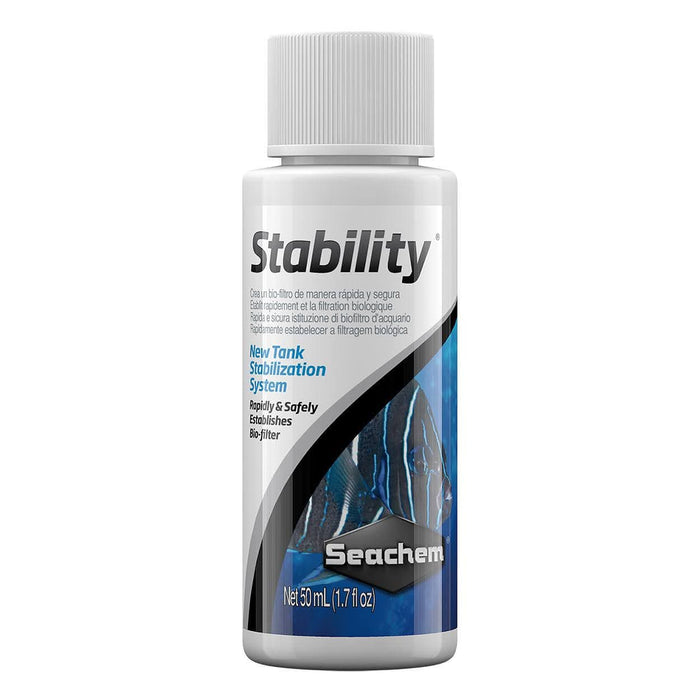 Seachem Stability
Sold out
Original price
$4.99
-
Original price
$29.99
Seachem Stability is a scientifically formulated solution designed to quickly establish an aquarium bio-filter in both freshwater and saltwater environments, helping to prevent the number one cause of fish death - new tank syndrome. The formula contains a synergistic blend of aerobic, anaerobic and facultative bacteria that help to aid in the breakdown of potentially harmful waste organics, ammonia, nitrite and nitrate. Seachem Stability uses a non-sulfur fixing bacteria that will not produce toxic hydrogen sulfide and is completely safe for all aquatic organisms and plants. There is no danger of over use!
Instructions:
Shake well before use.

Turn off UV/ozone equipment.

Use 1 capful (5 mL) for each 40 L (10 US gallons) on the first day with a new aquarium.

Fish and other aquatic organisms may be introduced any time as long as the dosage is maintained consistently for 7 days.

For maximum bio-filter performance use 1 capful for each 80 L (20 US gallons) once a month, as well as in addition to each water change, when introducing new fish or whenever medicating your aquarium.

Product shelf life is 4 years from date of manufacture.
Availability:
Out of stock
Availability:
Out of stock
Availability:
Out of stock
Availability:
Out of stock